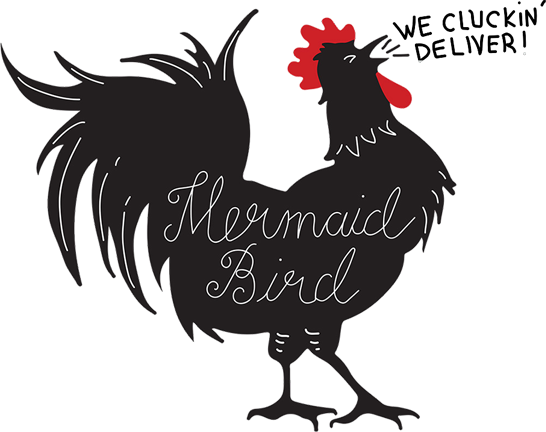 We need to fly around and find our new space.
Mermaid Bird will be suspending deliveries as we continue to look for a new location. Thank you so much from ordering from Mermaid Bird and we hope to be ready to serve you in the near future.
The team from Mermaid Inn
brings new delivery-focused restaurant to NYC
A new way of dining leads to a new kind of restaurant and we have a lot to cluck about! Mermaid Bird is bringing chicken of every flavor to the Upper West Side—and beyond. This new pick-up and delivery-focused concept is the latest by the successful team from The Mermaid Inn. Corporate Chef Michael Cressotti has developed a comfort food menu celebrating the whole darn bird, whether it be crispy fried, grilled, or roasted. Order a signature roasted marinated chicken, a hearty salad or family platters for game day delivered right to your door.
The menu boasts shareable faves like Chicken Wings and Tenders, from four pieces to 50, with a selection of six original sauces including Butter'd Old Bay, Sweet Thai Chili, and Smoked Chipotle BBQ. Sandwiches include everything from Nashville Red Hot, crispy chicken breast on Wonder Bread with pickles, to the soon to famous signature Mermaid Bird, crispy chicken breast, Old Bay aioli, lettuce and pickles and vegetarians will delight in the Fried Portobello Sandwich with kale slaw, Sriracha mayo & sprouts. Flavorful salads include the Chopped Asian Chicken Salad with napa, wontons, edamame and soy vinaigrette, Chopped Buffalo Wedge with crispy tenders, bacon, blue cheese & buttermilk dressing or Roast Chicken Cobb. Mermaid Bird will also feature half or whole Roasted Marinated Chicken and various Family Platters along with crowd-pleasing sides—think Loaded Baked Potato, Mac and Cheese, Waffle Fries and Jalapeño and Cheddar Cornbread. A selection of wine and beer will also be available for delivery.
We cluckin' deliver. Mermaid Bird will take orders now at mermaidbird.com and via any of your favorite delivery apps. Orders are also available for pick-up at 568 Amsterdam Avenue. Order online here.